St. Lucia Teachers' Union News
---
News
CUT Games 2010
Date: Sunday Aug 08, 2010
The St. Lucia Teachers' Union (SLTU) congratulates AKHENATON PIERRE and DENZEL ST. MARTHE, students of the St. Mary's College for their remarkable performances in the recently held Caribbean Union of Teachers 13th Biennial Track and Field Championships (CUT Games 2010) held on July 24 – 25, 2010 at the Silver Jubilee National Stadium in St. Kitts.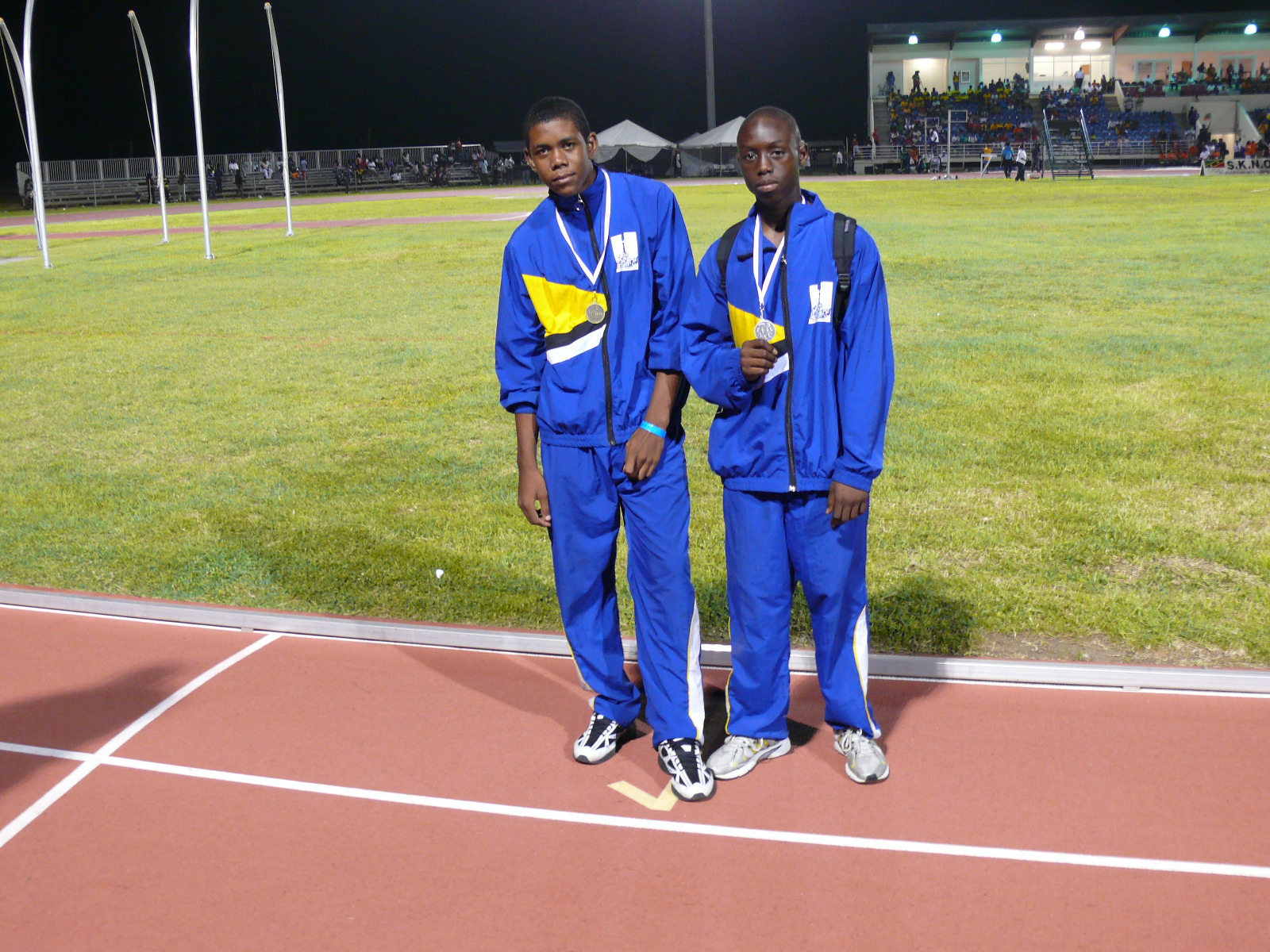 SLTU participated in the meet with 17 athletes and three officials. The athletes include: Brent Joseph, Sherwin Phamphille, Kohun Eugene and Sueann Charlemagne of Choiseul Secondary School; Akhenaton Pierre and Denzel St. Marthe of St. Mary's College; Fitzroy Clarke of Micoud Secondary School; Ashlee Edward of St. Joseph's Convent; Merline Augustin and Jeanackie James of Vieux Fort Comprehensive Campus A and Rogenia Luois of Gros Islet Secondary School. The athletes will compete in the Under 15 age group category for boys and girls. The events for under 15 age group for boys and girls include: 100m, 200m, 400m, 4 x 100m relay, cricket ball throw, long jump, high jump javelin and shot-put.
At the end of the competition, SLTU won two gold medals and one silver medal placing seventh in the medal count out of the 14 participating countries. The gold medals were won by Denzel St. Marthe and Akhenaton Pierre. Denzel won gold in the boys under 15 javelin and Akhenaton won gold in the boys 800m open. The silver medal was won by Akhenaton in the boys under 15 400m.
Denzel St. Marthe was the first to win his gold medal and that served as inspiration for the other athletes especially Akhenaton.
Denzel participated in under 15 shot put and Javelin. He did not fairly well in the shot put finishing eighth among 14 competitors with a throw of 11.33m. Clearly, the shot put is not Denzel's favourite event. He prefers javelin and discus.
The preference for javelin was well demonstrated by Denzel when he won gold in boys under 15 javelin with a throw of 44.56 m. His closest rivals in a field of 14 competitors were Naoh Bethelamie of Dominica with a throw of 42.35m and Xavier Coakley of Bahamas with a throw of 40.80m.
Denzel, a resident of Babonneau, is a form two student of St. Mary's College. His aim is to throw 60m in the javelin by next year's interschool competition. He recognises that would require that he adopts a proper training regimen. Denzel thanks his parents, Hubert and Theodora St. Marthe for their support and encouragement.
Akhenaton participated in his two favourite track events: Boys under 15 400m and Boys 800m open. He won silver in the 400m after posting the fastest time in the competition of 51.23s in semi finals. To everyone's surprise and disappointment, Akhenaton was beaten by Jamaican, Ivan Henry who completed the 400 m in 51.56s. Akhenaton had beaten Ivan in the semi finals. However, in the finals he clocked 52.15s.
However, Akhenaton made up for the disappointment of the 400m, winning gold in the Boys 800m open beating a field of 13 competitors in a time of 2:08.28s
Speaking after the impressive 800m success; Akhenaton says: "Sir I had to make up for my disappointment in the 400m. Although that athlete from St. Kitts started in blistering pace I knew he would burn out and I could catch up. I am very happy I won gold. My father and coach will be very proud."
Akhenaton did catch up winning ahead of Jamaican, Shavanes Robinson 2:08:36s and Bahamian, Darren Young 2:12.78s. Kittitian, Wazim Howe who led most of the race finished fifth in a time of 2:15.89s.
Akhenaton is also a form two student at the St. Mary's College. His principal, Mr. Rowan Seon, believes that he is very bright prospect for future athletics in St. Lucia. His performance at the highly rated regional competition, CUT Games is testimony to that fact.
Akhenaton proudly states that his goal is to represent St. Lucia at CARIFTA and the Olympics in his pet events 400m and 800m. SLTU wishes him well in that regard. Akhenaton is very grateful to his coach Cuthbert "Troisteena" Modest and his parents, Dorna and Angus Pierre for facilitating his athletics career.
The St. Lucia Teachers Union is very proud of the achievement of AKHENATON PIERRE and DENZEL ST MARTHE. The two young men represented ST. Lucia with aplomb, dignity and dedication. Their performances in track and field respectively tangibly demonstrate that our youth have the capability to excel at the highest level. They simply need more organisations like SLTU to believe in them and give them the opportunity.
SLTU thanks the Ministries of Education and Culture and Youth and Sports, Sagicor Life, The National Lotteries Authority, The St. Lucia Teachers' Cooperative Credit Union for assisting to make it possible for athletes like Akhenaton Pierre and Denzel St. Marthe to showcase their prowess at a competitive regional meet.
Bravo! Akhenaton Pierre and Denzel St.Marthe
---