Other Top Stories
SLTU General Secretary's Update
On behalf of the Executive and General Council of the St. Lucia Teachers' Union (SLTU) I wish all members a Happy New Year. I also wish you God's blessings and success in all your endeavours. In 2013, the SLTU remained very active. There were numerous challenges and successes. The success of the organization must be celebrated while at the same time, we must remain steadfast as a union to overcome our challenges. One of the major achievements of the SLTU is to ensure that our female members are not deprived of their stipulated Vacation Leave because it coincides with their Maternity Leave. Thus, whatever part of a teachers Vacation Leave that is impacted upon by Maternity Leave then that teacher will still be entitled to all the time allotted for their vacation.
TEACHERS' WEEK 2013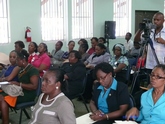 The SLTU congratulates the Southern Zone for winning the SLTU football competition 2013. A special thanks to the speakers at the Ecumenical Service, the presenters at the education conference and the Guest Speaker at the Teachers' Rally Mr. Oswald Robinson (President of the St. Vincent and the Grenadines Teachers' Union).
36th Caribbean Union of Teachers Conference
The St. Lucia Teachers' Union delegates to the 36th Biennial Conference of the Caribbean Union of Teachers (C.U.T) returned to the island on August 11th, 2013. The conference, which had as its theme "Improving the Professional Status of the Caribbean Teacher" took place in Georgetown, Guyana August 4 , 9, 2013.